There are some stereotypical myths that come up frequently when talking about lithium-ion batteries (also known as Li-ion or LFP). This battery type is so beneficial to use that we don't want you to pass it over without more information. We have sectioned topics into five categories: safety, price, compatibility, form and fit, and temperature sensitivity. Let's run through each one.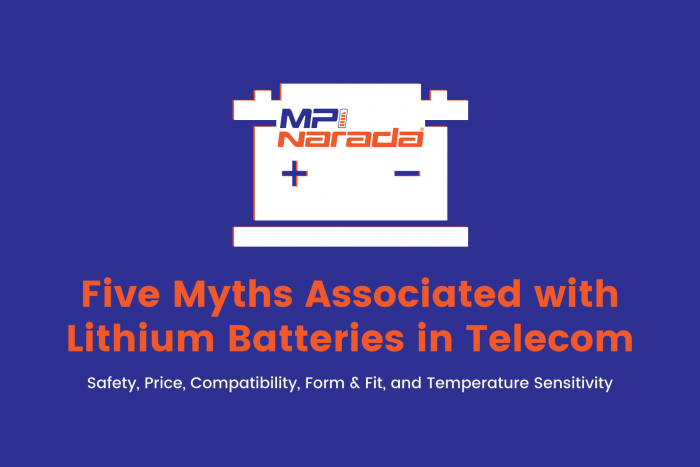 SAFETY:
Myth #1 – Lithium batteries catch on fire and are unsafe.
While some lithium battery manufacturers initially had some safety challenges that made it onto national news, MPINarada's phosphate chemistry is non-volatile and provides excellent discharge characteristics. We don't have fires like other Nickel Manganese Cobalt (NMC) batteries. Our millions of modules have been tested and used in some of the toughest and hottest areas of the world without issue.
PRICE:
Myth #2 – Lithium batteries are ten times the cost of other batteries.
Ten years ago, lithium batteries were more expensive. This is not the case anymore. We have mastered the chemistry and are proudly the global sales leader in 48 volt telecommunications batteries, so the volume has brought down our costs even further. MPINarada's Li-ion batteries are an affordable choice for you to consider. Quite often, our batteries are only 20-30% premium over VRLA technology when matching runtimes.
COMPATIBILITY:
Myth #3 – Lithium batteries don't work with all power system controllers.
All of MPINarada lithium batteries are compatible with your power system right out of the box. You will not need to change your charge parameters to switch to our product. Our internal battery management system is compatible with all power system controllers and charging systems.
FORM AND FIT:
Myth #4 – Lithium batteries will need new racking and/or cabinets and cables.
With MPINarada, you will be able to swap out your comparable ampacity lead acid batteries for our Li-ion batteries and keep your current storage container. Our form factor is the same, or smaller, than VRLA equivalents. We will also be able to reuse your existing cabling. Our small battery footprint may also give you the advantage of a better fit in your current system.
TEMPERATURE SENSITIVITY:
Myth #5 – Lithium batteries do well in high temperatures, but only fairly well in cold temperatures.
We offer you a battery that works extremely well in BOTH hot and cold temperatures. All of our batteries have been tested all over the globe. They have produced excellent results in the high temperatures of India, Africa, and the Middle East. Our North America climate is comparatively moderate with other parts of the world and the batteries perform very well.
RECAP:
MPINarada's lithium-ion batteries offer a reliable, affordable, and compact power supply solution for the tier 1, 2, and 3 telecom providers deploying small cell, distributed antennae, 5G networks, and CATV operators for mobile backhaul networks.
Some top customer benefits of our fully MPINarada constructed products are theft deterrence, stocked products, reduced lead times, weight savings, life cycle cost reductions, small form factor, and high level of quality control.
We are one of the few companies that offers UL listings on 48 volt lithium technology.
We proudly produce the highest volume of 48 volt telecommunication batteries in the world, and welcome the opportunity to discuss how our products could best serve your needs.
For more information, reach out to Bryan Thompson at bthompson@mpinarada.com or 770-712-9191.